Invitations
Invitation from the ICP2016 President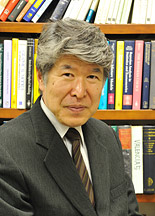 Kazuo Shigemasu
President, ICP2016
Organizing Committee

The world of psychology will gather in Yokohama, Japan from July 24 to 29, 2016, for the 31st International Congress of Psychology (ICP), held under the auspices of the International Union of Psychological Science. ICP2016 welcomes researchers and practitioners in all areas of psychology and related disciplines to meet in the dynamic city of Yokohama.
Psychology is an ever-evolving field of science. While many disciplines such as physics, chemistry, and biology study the workings of the natural universe, it is primarily psychology that studies the human mind. Thus, psychology unsurprisingly comprises diverse areas and includes researchers in different areas who employ different terminology and methodology. The ICP, as the largest conference in psychology, provides psychologists not only an unparalleled opportunity to share their most recent findings in their own specializations but also a valuable opportunity to be exposed to current stimulating developments in other related areas.
"Diversity in Harmony" is the theme of our Congress, expressing our hope that psychology will develop further in diverse directions while contributing harmonious solutions to the problems facing contemporary society. Japan reflects diversity and harmony not only by bridging Eastern and Western cultures but also in its unique history, which has experienced the integration of tradition and modernity, the aging and young, and the humanistic and scientific.
This is the third time that the ICP has been held in Asia: the first was in Tokyo in 1972 and the second in Beijing in 2008. The Japanese psychology community appreciates this second opportunity to facilitate the further development of psychology all over the world. The Japanese Psychological Association (JPA), the host of ICP2016, has the full support of the Japanese Union of Psychological Associations (JUPA), comprising 49 associations. In addition, as many as 29 academic associations in psychology and 16 academic associations in related disciplines have already agreed to cosponsor ICP2016.
I hope that all of you will come to Yokohama in 2016 to present your new ideas and research findings and have face-to-face discussions with fellow psychologists from throughout the world. There are other reasons you should visit Yokohama: it is Japan's second largest city, less than one hour by train from Tokyo, and surrounded by many historic and beautiful sites. If you find time to travel around Japan before or after the Congress, you will be able to appreciate the amazing natural scenery of the Japanese countryside and experience the exciting cultural changes in the big cities, as well as experience Japanese hospitality (omotenashi) everywhere.
I am looking forward to seeing you in Yokohama in 2016.
Message from the IUPsyS President
The International Congress of Psychology has a distinguished history dating back to the first ICP, held in Paris in 1889. Now held every four years, ICP brings together scientists, practitioners, students, and other professionals interested in behavior under the aegis of the International Union of Psychological Science (IUPsyS), which represents over 80 countries and 20 affiliate members. IUPsyS is the voice of international psychology, and ICP is the flagship event in international psychology.
The last ICP, held in Cape Town in July 2012, attracted psychologists from 103 countries, with seven of the 30 parallel sessions comprising invited presentations that represented the cutting-edge of psychological science and its applications across the globe. International Congresses are an unforgettable learning and networking experience for academics, practitioners, and students of psychology and should not be missed. ICP2016 in Yokohama, which borders Tokyo, promises to be an exhilarating event that will certainly affect all of us as we extend the frontiers of psychology to ensure that its benefits are felt in all our societies. You are cordially invited to participate in a stimulating scientific and social program that our Japanese hosts are planning to ensure that this will be a memorable ICP.
I urge you to submit an abstract to present your work at ICP2016, inform your colleagues, and bring your family and friends to an ICP that is set to break all the records in international psychology.
I look forward to meeting you in Yokohama in July 2016.